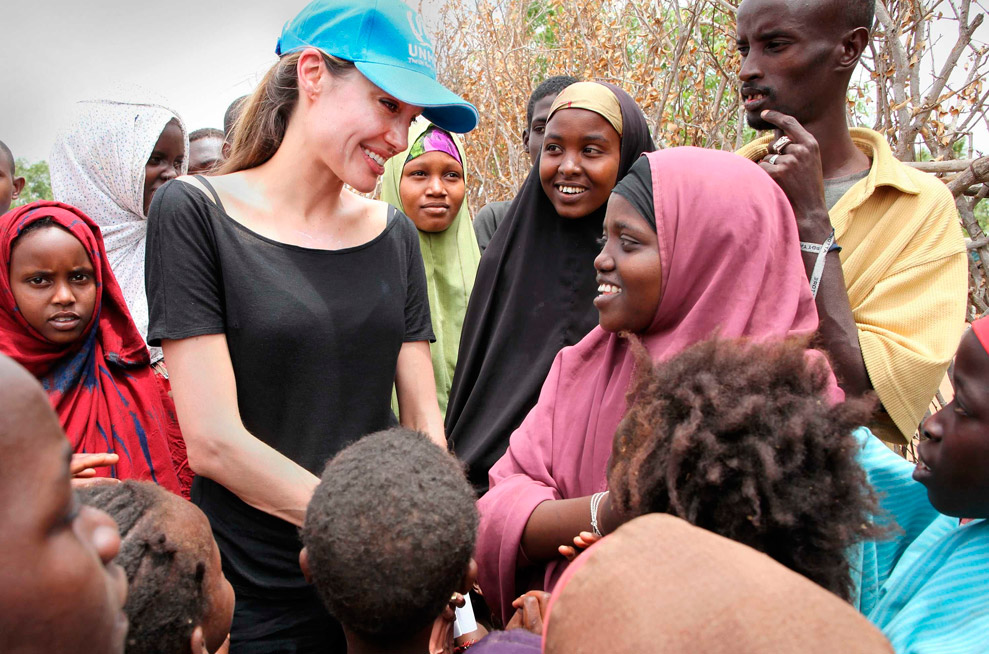 For over a decade since I saw Angelina Jolie's movie Tomb Raider, I've followed her work promoting international aid. I've always had immense respect for her fight to bring help to those in need. She's not perfect, of course, but she's doing something. I've never wanted to be an actress, but for a decade I've wanted to be like her: using my influence to make a difference, to bring hope.
Several years ago I donated to a fundraiser by one of my favorite authors, Patrick Rothfuss – The Name of the Wind, for Heifer International. They help local communities build sustainable agriculture and commerce (teach a man to fish philosophy). Every time I visit his blog, there's always a post about his ongoing fundraisers, mobilizing his fan base to make a difference (after reading about the Syrian refugee crisis, he did an on the spot fundraiser of over $100,000). In 2008, he founded Worldbuilders. Their mission is to mobilize the geek community to support international aid. Since then they have raised about 3.5 million dollars. Patrick isn't the only author doing this, just the one I know most about. In fact, the past twenty or so years has seen a surge in celebrity philanthropy, where famous people are using their influence and the power of social media to mobilize support for worthy causes.
Though celebrity philanthropists have always existed, the number and sheer scope of what many are doing in the past few decades is encouraging. People are using their fame to highlight our need to be responsible, generous individuals and give back to our world. Just last Saturday I watched actor Stephen Amell (Oliver Queen from Arrow) at Wizard World Comic Con Louisville take time out of his busy day to do a photo op with families from the Wounded Warrior project. He talked about his aid efforts and was even given a plaque from the Mayor of Louisville to honor him for his work to help others. At the bottom it read:
Stephen's work is a reminder of this basic truth: that it isn't money or fame or special abilities that set you apart. It's what you do with them.
God has blessed me with a tender heart. I empathize strongly and can easily imagine myself in other people's shoes. Though this helps me write well, it also means I cry a lot. I cried just now reading one of Patrick's posts about a journalist deliberately tripping a refugee on camera. I cried when I read this book about orphan street children in India, homeless, starving, and often sexually abused (which led me to become a permanent sponsor of a beautiful little Indian girl, I only wish I could afford to sponsor hundreds). I cry when I read articles about war in Syria, in the Sudan, and elsewhere. I cry when I read about riots and mass shootings here in the US. Whenever this happens, I take a moment to pray for those in need, and try to calm the burning inside, the need to do SOMETHING. I'm just one small voice. I'm no Angelina Jolie. What can I possibly do? Who would even notice?
Thanks to the power of social media, I can do something. Social media, along with other technological and social developments, has made self publishing viable. My voice may be small, but I have the tools to grow it, and to help. I look to Patrick Rothfuss, and other authors, for my inspiration: writing amazing books that create a community of readers eager to help, and harnessing that energy for good.
Because I believe in you all, my readers, and I trust God to provide, I'm starting right here, right now. All that I have is a gift: my time, my talents, and my resources. They're not mine to keep, only mine to steward. Therefore, I'm looking for a responsible, effective local organization here in Louisville in the foster care/adoption field to donate 10% of all my book sales to. Not just 10% of my presales, or my book launch sales, but 10% of all my sales on an ongoing basis.
I ask that you do 3 things:
Comment. Give me suggestions for an organization to donate to. I'm not ruling out national/international things, I'd just like to start in my local community.
Share. Get the word out. Use the power of social media for good and tell everyone you know about this local author trying to do her part to make the world a better place. I can't do it by myself. I need your help, and always will.
Sign up. Get your friends to sign up. My newsletter has all the juicy stuff, news, plans, giveaways, and will be how I get the word out when my books hit the shelves. The more people who are plugged into it, the bigger difference we can make together.
In the meantime, I'm working my butt off writing and editing. My days are filled with business plans, marketing strategies, and long brainstorming walks in the woods. Thank you for your time, your interest, your prayers and comments of support. They mean the world to me. Let's do this together.